live multimedia performance, installations, and dance films curated by SSF and CU Dance faculty and alumni
Once again we partner with our friends at the University of Colorado Boulder's Department of Theatre & Dance to highlight an eclectic selection of the season's films from around the world. From the highly produced to the highly experimental, these screenings exude technical excellence, dazzling visuals and a stunning experience at the intersection of cinematography and choreography.
With films from nine countries, the screening and installations feature a plethora of dance forms, from contemporary, contact improvisation and tap to Native American Fancy and Jingle dances, pole, and breakin… even some underwater dancing! The show opens with a live multimedia performance, and installations will be looping in the lobby before and after the show and during intermission, for an immersive and refreshing experience.
University of Colorado
Charlotte York Irey Theatre (university theater building)
261 UCB
Boulder, CO 80302
Accessibility: handicap parking, wheelchair seating available upon request, theatre on the first floor with ramps to building, all installations accessible.
Presented in collaboration with

Sponsored by

live performance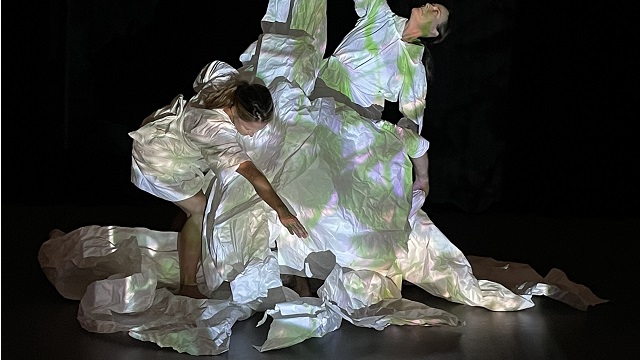 Scenarios
2021 / United States / 12 min
Directed by
Ana Baer Carrillo
Choreography and Dancing by
Michelle Nance, Nicole Wesley, and Brandon Gonzalez
Videography by
Brandon Gonzalez and Ana Baer
Light/Scenic Design by
Cheri Prough DeVol
Costume Design by
Monica Pasut
Music Composed by
Joaquin Lopez Chas
An interdisciplinary exploration of human connections set to specific environments. A kinesthetic visual and aural study on freedom, restraint, resistance, flexibility, adaptability and despair.

screening
This screening runs approximately 80 minutes plus one 10-minute intermission. Audiences are encouraged to arrive early to engage with the installations; some installations will have head phones for a more up close and personal experience with the films. A strobe light is present in one film.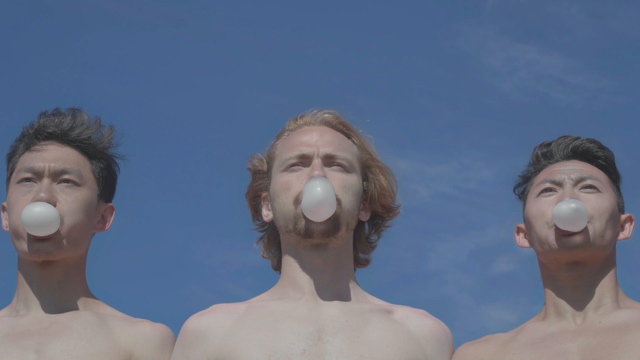 The Bait
2020 / China / 6 min
Directed by
Chenglong Tang
Produced by
Chenglong Tang, Huang Jun, Siyang Fu, Anna Alexandre
Choreography by
Chenglong Tang
Dancing by
Shifei Chen, Zibo Geng, Théo Pendle
Music Composed by
Xiaogang Zeng
Cinematography by
Siyang Fu, Huang Jun
Edited by
Xiaoxiu Guo, Shifei Chen
Sound Design by
Qian Lei, Xiaogang Zeng
Color Correction by
A Xing
Three characters are carried away in a frantic race. They will fight to win… But for what? What if all this was just a decoy? This dance film transposes into our contemporary world the ancestral fable of Jiang Gong, humble fisherman and great strategist of the Zhou dynasty, whose catches were caught without bait. A universal story about the loss of identity, the abandonment of oneself and the renunciation of free will.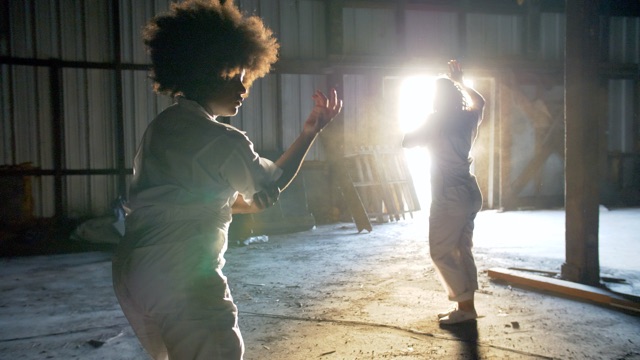 Entre Puerto Rico y Richmond: Women in Resistance Shall Not Be Moved
2020 / United States / 17 min
Choreography by
Alicia Diaz, co-created with Christine Wyatt and Christina Leoni-Osion
Dancing by
Christine Leoni-Osion, Christine Wyatt
Written by
Patricia Herrera
This dance film combines biography, poetry, and ritual with the energy of live performance to bridge stories of resistance and liberation between Puerto Rico and Richmond, VA, honoring Black women tobacco workers in Richmond and Puerto Rican tobacco factory readers and activists Dominga de La Cruz Becerril (1909-1981) and Luisa Capetillo (1879-1922).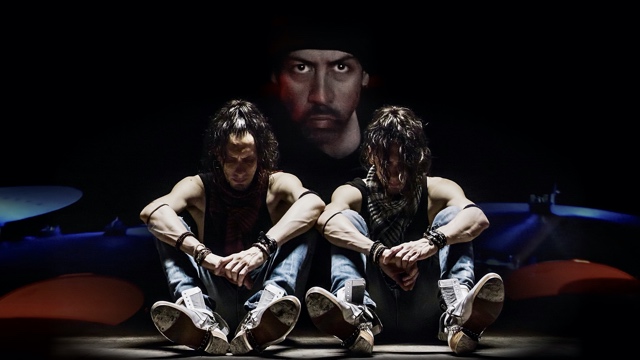 Bad Hombre
2020 / United States / 3 min
Produced and Directed by
Martin Lombard, Facundo Lombard
Choreography and Dancing by
Martin Lombard, Facundo Lombard
Cinematography by
Andy Cao
Camera Operation by
Andy Cao, Anai Garcia Medina
Artists / performers Martin and Facundo Lombard and five-time Grammy-winning drummer / composer Antonio Sánchez, tell, through the language of music and dance, the story of a man who struggles to make his voice heard and what this can cause.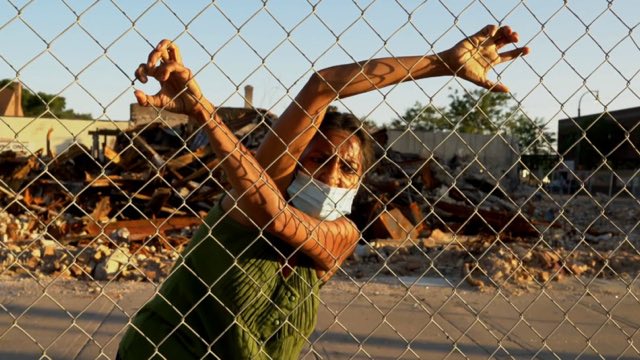 Dastak: Fire
2020 / United States / 7 min
Directed by
Darren Johnson
Choreography by
Ananya Chatterjea
Featuring
Ananya Dance Theatre
Filmed amidst ruins of the Minneapolis Uprising following the murder of George Floyd, Dastak: Fire, part 3 of a series created with Guggenheim Award winning choreographer Ananya Chatterjea and her company of fierce, BIPOC Women & Femmes, is a soul-stirring dance meditation tracing the knockings of disruption and injustice on our hearts and communities.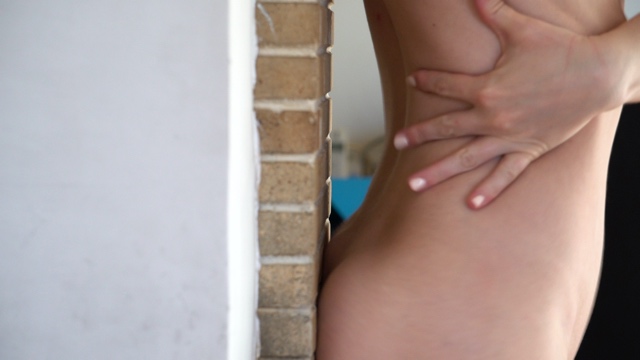 Losing Touch
2021 / Greece / 1 min
Directed by
Mavra Peponis
Choreography by
Mavra Peponis
Music Composed by
Nicoleta Chatzopoulou
A cat in spring quarantine.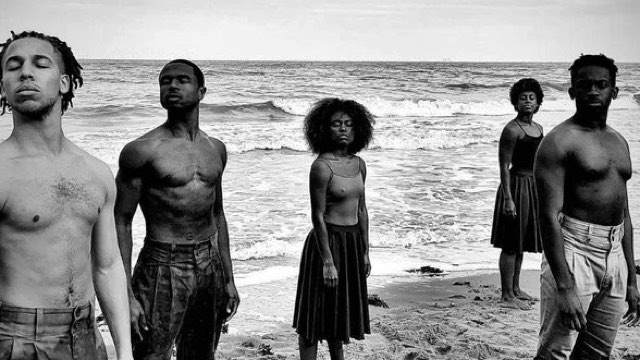 Like Water
2020 / United Kingdom / 9 min
Directed by
Mthuthuzeli November
Produced by
Richard Bolton
Choreography by
Mthuthuzeli November
Dancing by
José Alves, Isabela Coracy, Alexander Fadayiro, Marie Astrid Mence, Ebony Thomas
Music composed by
Georgina Lloyd-Owen
Cinematography by
Nauris Buksevics
Artistic Direction by
Cassa Pancho MBE
Written by
Asisipho Malunga
Like Water acknowledges the resilience of our ancestors, passed down from generation to generation. A world unkind to our people, yet somehow we survive. A world that that has conditioned us to not see the beauty of our skin, hair, culture and our people. But like water we flow, like water we change shape. We remain resilient.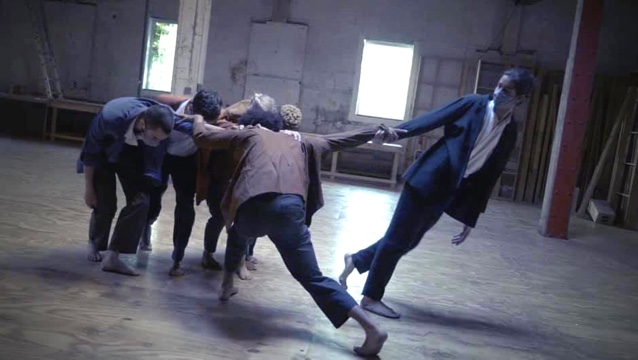 Los Perros del Barrio Colosal
2021 / United States / 12 min
Directed by
Omar Román De Jesús
Choreography by
Omar Román De Jesús
Dancing by
Rafael Cañals, Carlos Falú Sanchez, Rachel Seacrest, Ian Spring, Christian Warner, Spencer Weidie
Cinematography by
Drew L. Brown
Costumes by
Omar Román De Jesús
Through the exaggerated mannerisms of daytime television, the six characters of Los Perros del Barrio Colosal take us on a wild romp through the challenges of creative decision making. Diving dramatically into the adventure of an imagination yet to be physicalized, they ask us to consider the far side of the moments when our ideas threaten, with disjointed urgency, to swallow us whole.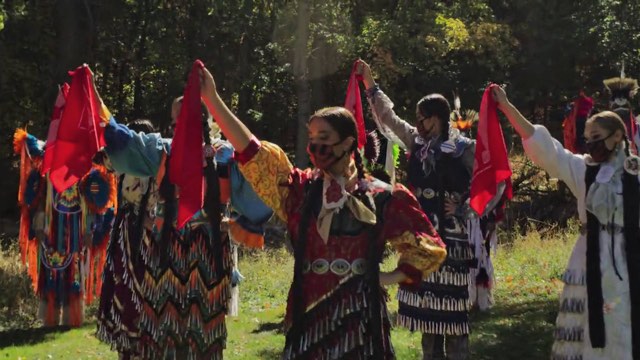 Ozhigaabawi (One Stands Ready)
2021 / United States / 7 min
Directed by
Jamie Kalama Wood
Produced by
Scott Cook, Jamie Kalama Wood
Featuring
BYU Living Legends
Jingle Choreography by
Tyra Tsosie, Mari Tsosie
Fancy Choreography by
Naakaii Tsosie, Patrick Willie, Naataanii Tsosie
Female Jingle Dancers and Male Fancy Dancers offer a combined piece in honor and recognition of the Missing and Murdered Indigenous Women and Girls (specifically amongst Native American and Alaskan Native women). "Ozhigaabawi" means "One Stands Ready." As a group of indigenous dancers, we feel it is important that we not only represent the beauty of our communities, but also the realities of our people. It was important to me to create a work that empowers both our female and male dancers to show that they stand ready to make a change for the better. Traditionally, Jingle is a dance of healing and strength. Men's Fancy is a dance of agility and strength. Our hope is that by putting them together, we offer strength and healing to those who have been harmed by sexual and physical violence–not just the individuals but also the families and communities at large.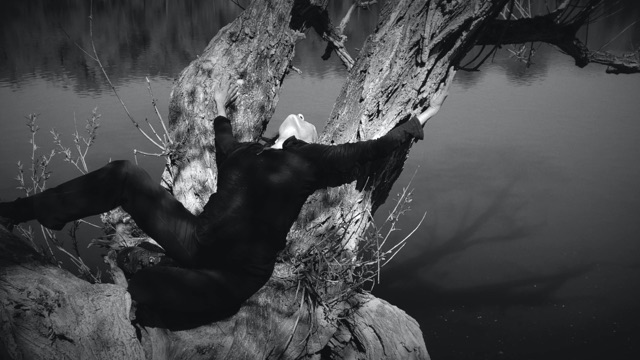 Listening Tree
2020 / United States / 1 min
Directed by
Darren Johnson
Choreography and Dancing by
Ananya Chatterjea
Cinematography by
Darren Johnson
A tree on the banks of the Mississippi: What stories does it hold? Multiple branches embedded in our environment, Listening Tree affirms our relationality with life-forces of our world.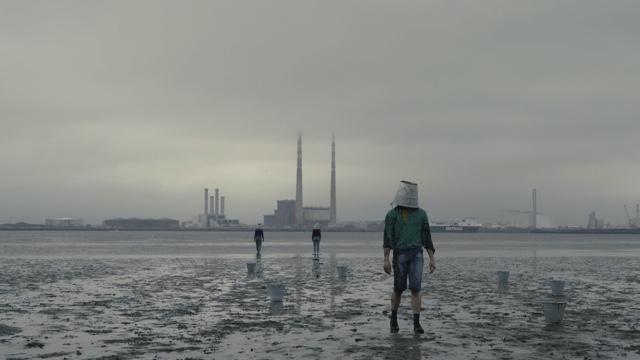 Tide
2020 / Ireland / 6 min
Choreography by
Laura Murphy
Dancing by
Marion Cronin, Sarah Ryan, Kevin Coquelard
Music Composed by
Melanie
Cinematography by
Luca Truffarelli
Tide contrasts the pace of industry with human movement, and the soft yielding nature of the body with the hard edges of manmade objects.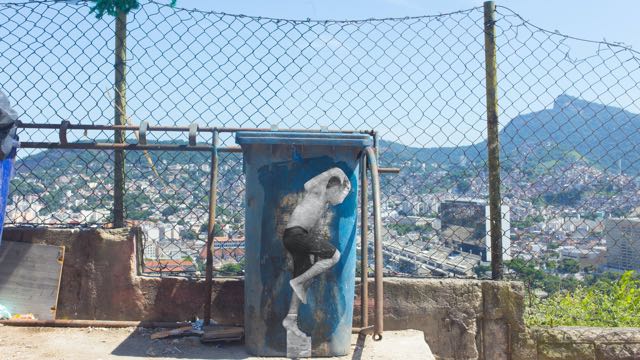 Erêkauã
2021 / Brazil / 1 min
Directed by
Paulo Accioly
Produced by
Estranha Força
Choreography by
Ernane Ferreira
Kauã dances in the hill, like a bird of prey.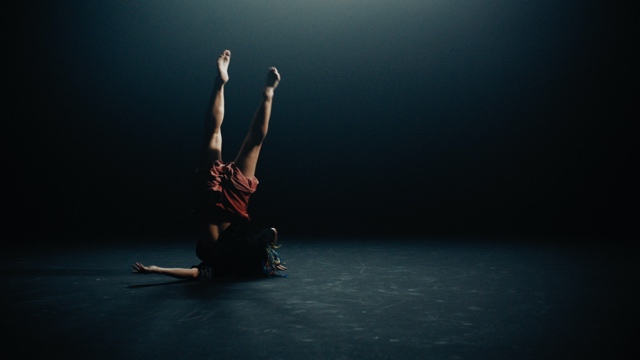 Exhale
2020 / Netherlands / 6 min
Directed by
Moniek Van der Kallen
Produced by
Lazlo Tonk, Dylan Tonk
Choreography by
Moniek van der Kallen, Alicia Verdú Macián
Dancing by
Alicia Verdú Macián
Cinematography by
Erwan Van Buuren
Edited by
Danjel Van den Hoogen
Exhale starts in shock, when a traumatic event makes you aware of your vulnerability. Your reality has been affected. Can you trust your senses? Exhale evokes reflection, letting go of your anger and overcoming the feeling of powerlessness. And ultimately regaining confidence in your own instincts and body.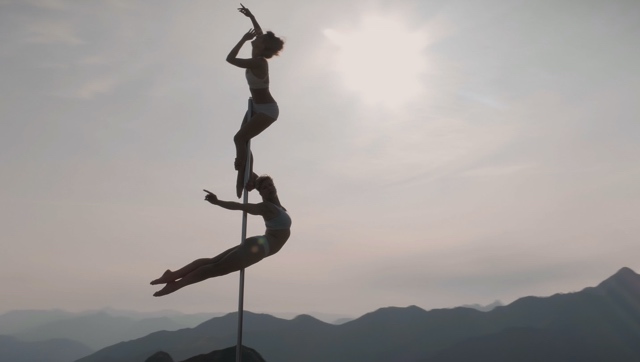 Axis Mundi
2020 / France / 2 min
Choreography by
Deborah Torres Garguilo
Featuring
Céline Garbay, Loriana Lorenzon
Cinematography by
Benjamin Ziegler
The "axis mundi" is a connection between heaven and earth, between the divine and the material. With this gravity-defying choreography, imagined and performed at the top of a mountain and on the verticality of a pole dance bar, I wanted to deliver my own vision of this "axis mundi." Two bodies merge and evolve precisely between earth and sky, in a quest for physical and spiritual elevation along this invisible thread.

installations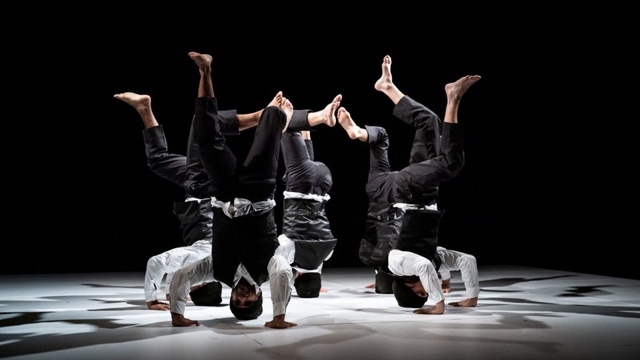 Reverse
2020 / France / 22 min
Directed by
Antoine Billet
Choreography, Costumes, and Set Design by
Jann Gallois
Dancing by
Mickael Alberi, Romain Boutet, Hugo De Vathaire, Geoffroy Durochat, Razy Essid
Cinematography and Editing by
Antoine Billet
Camera Operation by
Pascal Sentenac
Sound Design by
Christophe Zurfluh
Light Design by
Cyril Mulon
Costumes by
Hitomi Tsuchida, Claude Murgia
A veritable physical and technical performance, Jann Gallois upends the senses and solicits five B-boys to not take their head off the ground. How can one find meaning in a topsy-turvy world like the one today, where we seem to be walking more and more on our heads? Jann Gallois develops a choreographic language from different hip hop figures that she trained in, such as the Reverse, the Head Spin, and the Chair Freeze. From these figures, there is a whole range and variation of movements with the head constantly on the floor. Choreographed to the smallest detail, Reverse evokes the man-machine caught in the cogs of a complex and ordered system and evolves finally to leave space for a circular composition that softens the angles and progressively allows a collective osmosis to emerge.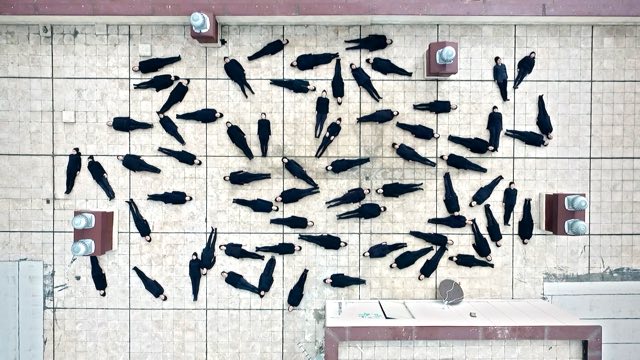 Flatland
2017 / Iran / 15 min
Directed by
Alireza Keymanesh, Amir Pousti
Choreography by
Alireza Keymanesh
Music Composed by
Peter Pir Hoseinlou
Cinematography by
Peyman Kermani, Kasra Bordbar
Camera Operation by
Amir Pousti
Flatland has been made based on a book of the same name written by Edwin Abbott in 1884, which describes a two-dimensional world occupied by geometric figures. The narrator is a square named A Square, a member of the caste of gentlemen and professionals, who guides the readers through some of the implications of life in two dimensions. On New Year's Eve he visited by a three-dimensional sphere named A Sphere, which he cannot comprehend until he sees Space land (a tridimensional world) for himself. This experimental short film has come out of a group exhibition under the collective title Flatland, curated by Ms. Golbarg Barzin. The exhibition comprised works by seven other artists in various fields of art, such as sculpture, painting and visual art.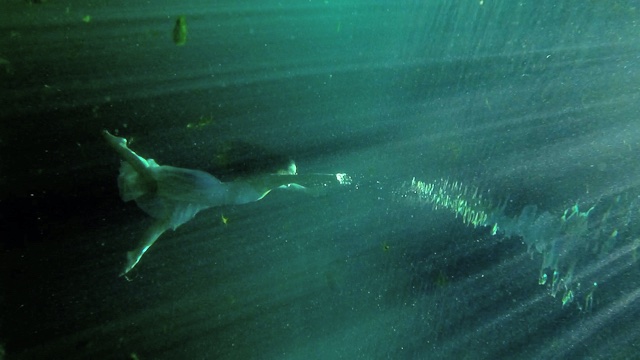 Liminality
2020 / United States / 8 min
Directed by
Jennifer Akalina Petuch, Annali Rose
Choreography and Dancing by
Annali Rose
Music Composed by
Lincoln Sandham
Cinematography by
Jennifer Akalina Petuch
Costume Design by
Annali Rose
Liminality is inspired by reimagining what Odette may have experienced upon plunging to her death in the lake from the classical ballet "Swan Lake." It is a moment of suspended reality and a story of disenchantment, self-discovery and transformation. In our modern world we know that "happily ever after" is a journey and we have the ability to exercise our own agency to create our experience. In our story, the heroine is exploring the space in between life and death. She is coming to terms with the end of her world as she knew it and finding the strength and courage to move into a new existence.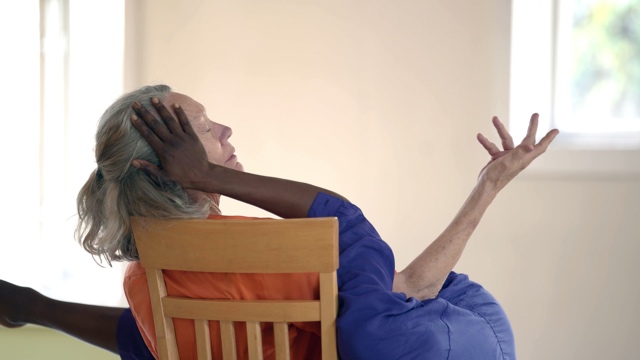 The Window Kind of Opens by Itself
2019 / United States / 11 min
Directed by
Anya Cloud, Rebecca Salzer
Choreography by
Anya Cloud
Dancing by
Ishmael Houston-Jones, Sara Shelton Mann, taisha paggett, Kristianne Salcines
An impressionistic screendance poem constructed from 3 days of improvised duets, The Window Kind of Opens by Itself is an intergenerational dance film that centers the embodied intersection of four important experimental dance artists of this time. It explores radical expressions of self within duet form to reveal intimate and epic portals of connection, divergence, and aliveness. The work is a ritual and a reckoning, Through immediacy, touch, sweat, laughter, and exquisite composition this dance film ignites the imagination and activates spaces for transformation.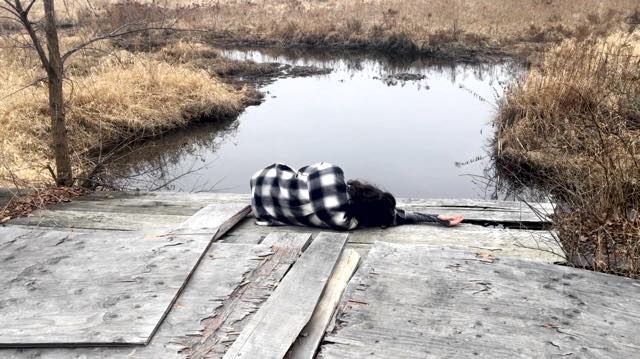 Outer Rim: Attending to the Edges
2020 / United States / 6 min
Directed by
Madison Palffy
Choreography by
Madison Palffy
Dancing by
Molly McBride and Madison Palffy
Music Composed by
Marc Candilore
Outer Rim: Attending to the Edges works improvisationally and ecologically, asking us to consider the margins and edges of our lives. How do I feel the edges of my body? Of my self? How do I locate myself in a location, a history?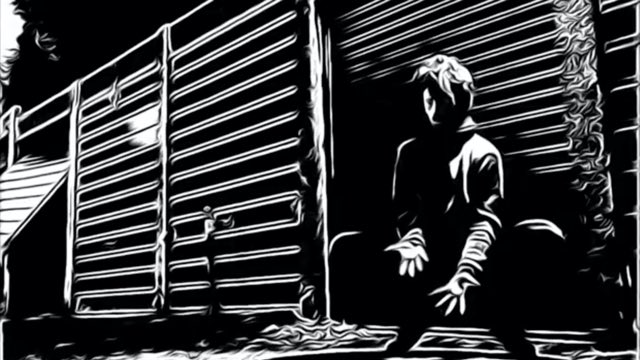 Stamping Ground
2021 / United Kingdom / 1 min
Directed by
Thomasin Gülgeç
Choreography and Dancing by
Thomasin Gülgeç
Dry white and wintry black. Outlines of a movement practice.