Sans Souci Festival of Dance Cinema has been screening dance films for 18 years, but now we are making a film together with dancers in the Boulder community!
Our Community Dance Film Project was created to engage Boulder artists of many genres and to inspire our local community with all we have to offer. Each dancer was selected through a rigorous process based on artistic excellence and professional résumé (with special consideration for those in typically marginalized communities), paired with a location at one of the City of Boulder's most iconic outdoor sites — Chautauqua, Dushanbe Tea House, the Flatirons, etc. — and asked to create movement responding to that location along a theme: "The first fresh breath in a long time." Emerging from their spring 2020 quarantines, they reconnected with their own dance-deprived bodies, and brought their unique presence to each space, activating it with movement.
cast and collaborators
Eight professional local dance companies are represented: Boulder Ballet, Frequent Flyers Productions, Cindy Brandle Dance Company, Life/Art Dance Ensemble, BEAM, VisKosity Dance Collective, Block 1750, and Spark Theatre. Between the companies and freelance artists, the film encompasses ballet, tap, contemporary, house, waacking, aerial dance, and samba; collaborators include BIPOC and LGBTQ performers, those with disabilities, and dancers on the older end of the age spectrum. An original score features contributions by two local musicians, a Brazilian master drummer, a voice actor, and a poet.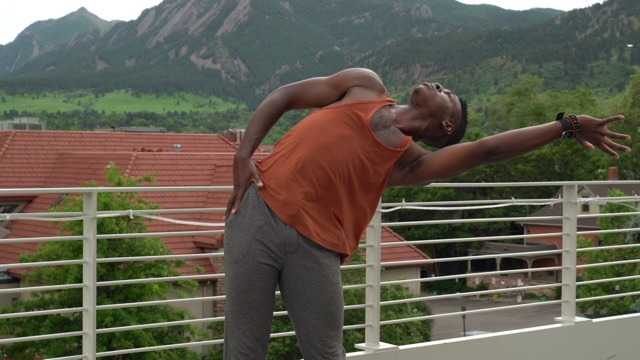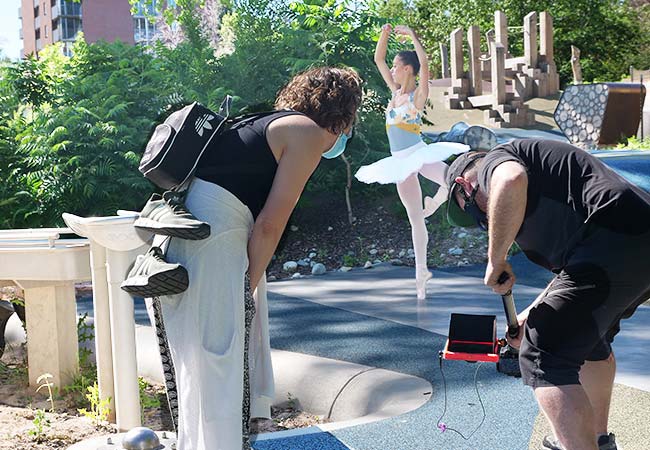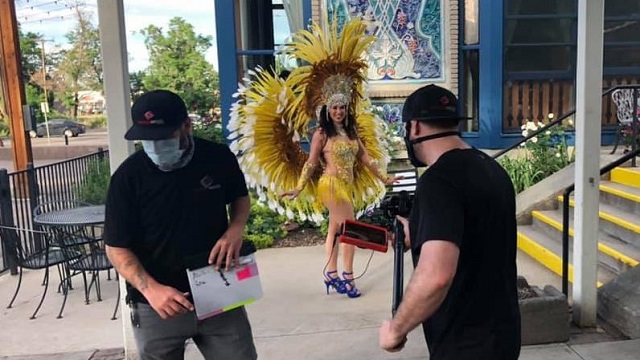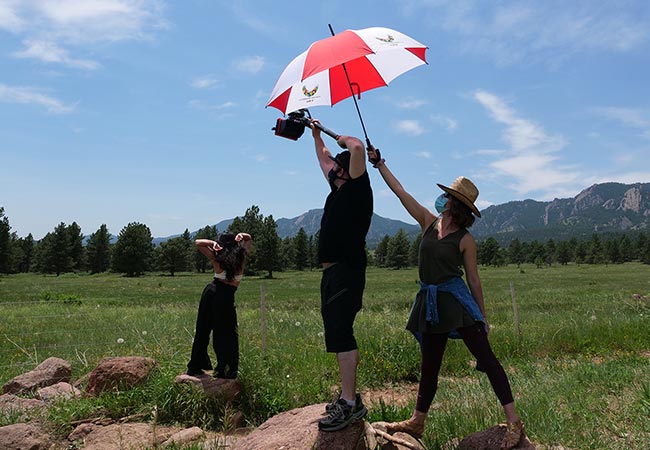 the film
The resulting short film, This Breath Together, premiered at the Museum of Boulder September 3-5, 2021.
The film was also screened on public television in Boulder, as a part of the Boulder Arts Showcase on Boulder8TV throughout September 2021. To share this film with your dance students or for private or public screenings of the film, please contact us.
"This Breath Together" Trailer
the installation and performance at NoBo
In addition to the film, some of the video footage we crafted was used to activate the space at the Gallery @ Bus Stop Apartments with a four-week video installation that assembled all the elements of the sound score — including poetry, music, and environment sounds dismantled and rearranged — with never before seen video footage of every dancer in the project, and a chance for audience members to dance as part of the installation.
We also crafted a one-day-only performance by professional dancers Keith Hayes, Peg Volpe Posnick, Jessica Riggs, and Marla Schulz. Tap, modern, and contemporary dance improvisation activated the video installations, and were also live-captured to create an interactive video performance, crafted in the moment. Viewers were then invited to engage with the live video station, which remained available for the rest of the month.
Did you know that Boulder Strong Memorial Wall materials were used in the creation of this exhibit?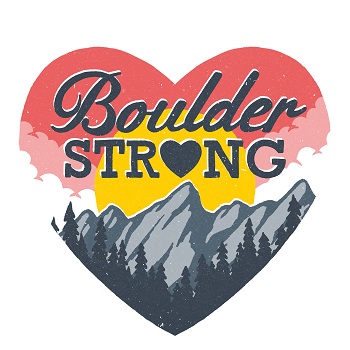 Following the March 22, 2021 tragedy that occurred when a mass shooter attacked the King Soopers in South Boulder, an outpouring of grief and support resulted in the creation of a memorial wall surrounding the site filled with flowers, candles, mementos, and messages. The City of Boulder's Office of Arts and Culture took the initiative to provide local artists the opportunity to take leftover items from the Boulder Strong Memorial Fence, when it had to be disassembled to allow the reopening of the store. With support from victim representatives, the Kroger Company, the Museum of Boulder at Tebo Center, and the City of Boulder's Zero Waste Program, the Office of Arts and Culture offered tribute items to creatives who wished to respectfully acknowledge the tragedy and remember the victims in new works of art. This project was meant to both divert these items from the landfill and provide material for local artists to create thoughtful works that will help our community heal, and the SSF team was gratefully able to repurpose some of these items in the installation of This Breath Together. This felt important, as we acknowledged that this was one of the many times our city has held its communal breath together in the last couple of difficult years. In regifting these items to the community through our art, we hope their second life brings yet another chance to bring us closer together, connected, and in memory.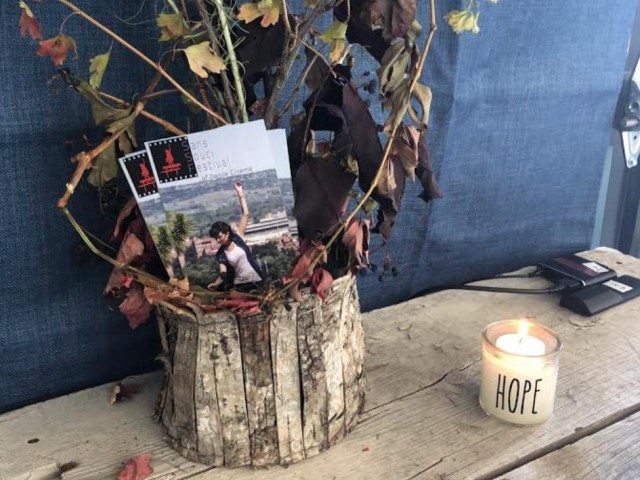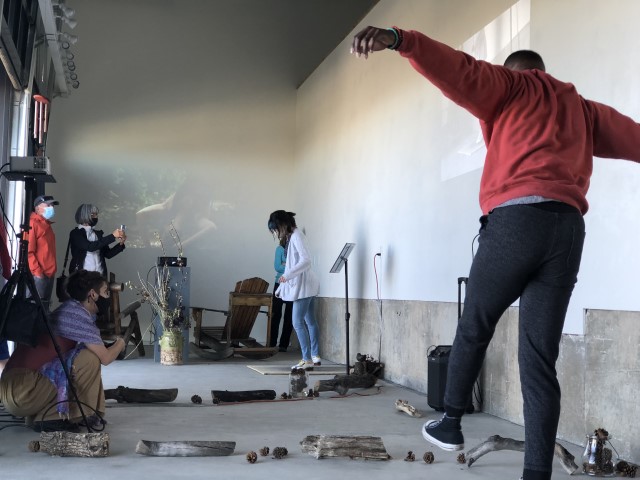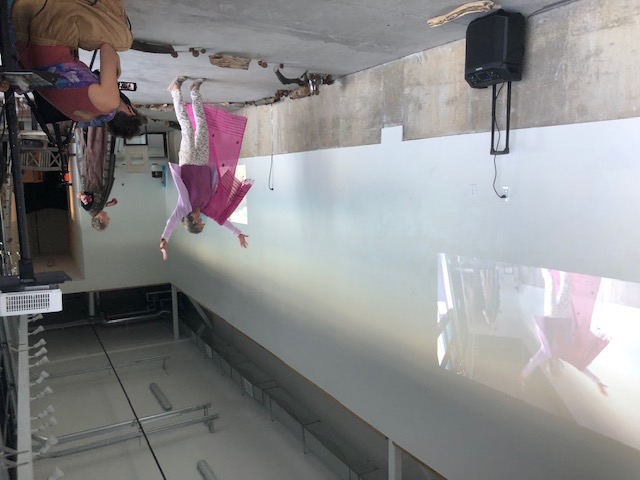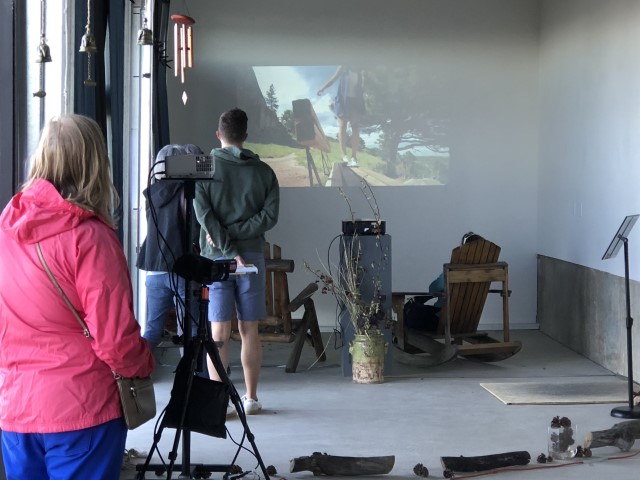 made possible by
Join in the Community Dance Film project and help us pay local professional dancer by becoming a corporate sponsor to get your logo here, or by making an individual contribution here and checking the box for "Community Dance Film: This Breath Together".