a video installation with live performance activation
Sans Souci Festival is proud to be partnering for the first time with NoBo Arts district. This event is unlike anything else on our season — no film screening, pure video installation, with a one-night-only live performance.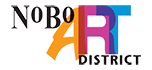 The Gallery @ Bus Stop Apartments
4895 Broadway St
Boulder, CO 80304
Accessibility: ramp access available on the side of the building.
who
Everyone's invited, and it's even family-friendly!
what
SSF presents a dance film installation, including a 4 week video exhibition and a live performance event with opportunities for professional dancers and the wider public to engage with the breathing body as a way of dancing.
where
Our host for this event is NoBo Arts District, and the venue is The Gallery @ Bus Stop Apartments on Broadway in North Boulder. The 4-week video installation will take over the gallery, and the performance will take place inside the gallery, as well as outside surrounding it.
the details
Sans Souci's Community Dance Film Project was created to engage Boulder dancers of many genres and to inspire our local community with all we have to offer. Each dancer was paired with a location at one of the City of Boulder's most iconic outdoor sites — Chautauqua, Dushanbe Tea House, the Flatirons, etc. — and asked to create movement along a theme: "The first fresh breath in a long time." Performances include ballet, contemporary, tap, samba, aerial dance, waacking, house, and poetry; collaborators include members of the BIPOC and LGBTQ communities, those with disabilities, and dancers on the older end of the age spectrum. The video footage we crafted, aside from being shaped into a short film, will now be used to activate the space at the Bus Stop, both in a looping installation over four weeks, and in a one-night only performance.
Video Installation
Eight professional local dance companies are represented: Boulder Ballet, Frequent Flyers Productions, Cindy Brandle Dance Company, Life/Art Dance Ensemble, BEAM, VisKosity Dance Collective, Block 1750, and Spark Theatre. Between the companies and freelance artists, the work encompasses ballet, tap, contemporary, house, waacking, aerial dance, and samba; artists hired included BIPOC and LGBTQ performers, those with disabilities, and dancers on the older end of the age spectrum. An original soundtrack is in production with contributions by two local musicians, a Brazilian master drummer, a voice actor, and a poet.
Live Performance
Performances starting every 15 minutes from 4-6pm, to accommodate for as much (physically distanced) audience capacity as possible, including inside and surrounding the gallery. Audiences will be able to dance with (as part of) the installation, at a live capture video projection station.
thanks
If you would like to support the Community Dance Film project and help us pay local professional dancers, you can donate here and check the box for "Community Dance Film: This Breath Together" to make a contribution.