an evening of dance cinema installation, performance, and films screening on the museum rooftop
jump to:
LIVE PERFORMANCES
LOCAL ARTIST INSTALLATION
INTERNATIONAL ARTIST INSTALLATION
VR INSTALLATION
FILM SCREENING
Join Sans Souci for a night to remember as we return to The Museum of Boulder to celebrate the opening of our 19th season!
You'll enter like a star through a VIP red carpet photo area…it is a film festival, after all! Grab a local brew or glass of wine, and check out the virtual reality dance film and the video installations looping throughout the Museum before the screening for an intimate experience with select films. Take a peek at the Museum's open exhibits, and delight in the surprise of live dance performance around every corner on your way to pick up your pre-purchased burrito bowls on the rooftop patio.
The main event will begin at 7:30pm as we embark on a screening of our new season's top scoring dance films. As always, our selections are submitted from around the world and curated by a panel of professional dance filmmakers to bring you the most cutting edge work in the realm where dance and cinema collide. All these films are making their SSF debut, and tickets must be purchased in advance.


Museum of Boulder
2205 Broadway St
Boulder, CO 80302
Accessibility: handicap parking, wheelchair seating available upon request, elevator to roof, all installations accessible.
With support from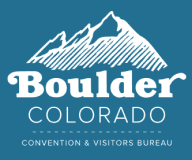 Sponsored by


live performances
These performances will take place before the screening (6:45 – 7:30). These are durational performances that are not necessarily intended to be viewed in entirety.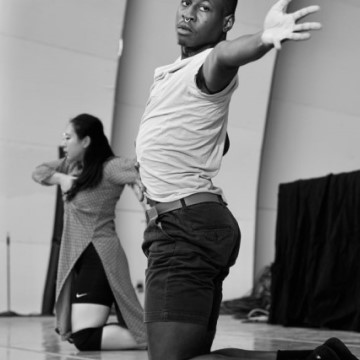 First Floor (Main Gallery)
VisKosity Dance Collective will be performing a structured, durational, improvisational piece inspired by the chance dance methods of Merce Cunningham. Audience members are highly encouraged to participate in this piece by reading movement prescriptions to the dancers to influence movements and patterns.
VisKosity Dance Collective was established by Vivian Kim, MFA and Keith Haynes, MFA in 2020. VisKosity Dance Collective is a Contemporary-Street Dance fusion company based in Boulder, CO. VisKosity Dance Collective aims to create visceral, in-depth, thought-provoking and embodied dance works that disrupt preconceived notions surrounding marginalized communities, in order to create space for audience members, collaborators and dancers to have candid, open conversations about topics that are not frequented.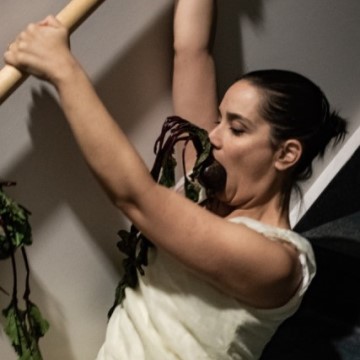 First Floor (Main Gallery)
"The Milkyway" uses video, plaster, and live performance to address some of the challenges of motherhood. This is a collaboration between Rosely Conz and Patrizia Herminjard.
Rosely Conz (MA, MFA) is a Brazilian dancer, choreographer, scholar, dance teacher, and screendance maker. She is an Assistant Professor of Dance at the University of Colorado at Colorado Springs (UCCS). Rosely has performed and choreographed professionally for dance companies both in Brazil and in the USA. Patrizia Herminjard (Choreographer/Filmmaker) is a lecturer at Colorado College ('96). Her screendance works have been presented by Dance Camera West and Sans Souci Festival of Dance Cinema. She has performed with the Martha Graham Dance Ensemble, Pearl Lang Dance Theater, and DanceArt Hong Kong. Patrizia has performed and taught internationally in Canada, China, Switzerland, and Taiwan.

local artist video installation
This special installation is available now through September 4 for all Museum of Boulder visitors. If you watched and enjoyed it, please come to our Premiere event September 2, 3, and 4. It will also be available during the Premiere before the screening (6:45 – 7:30), during intermission, and after the screening.
Second Floor (Mason's Nook)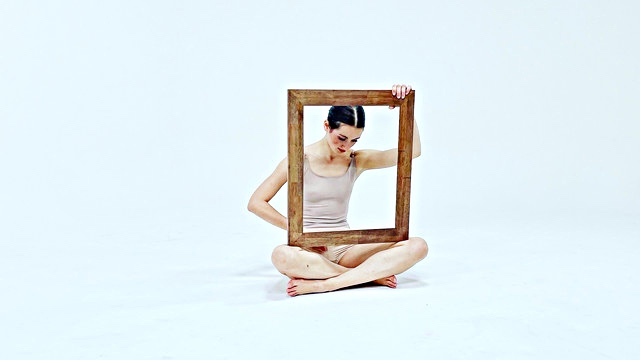 Before We Turned to Stone
2022 / United States / 4 min
Choreography by
Claudia Anata Hubiak
Dancing by
Carly Hambridge and Makaila Wallace
Before We Turned To Stone portrays the manifestation of mind chatter and how enticing it can be to stay busy, avoid the stillness and believe our thoughts.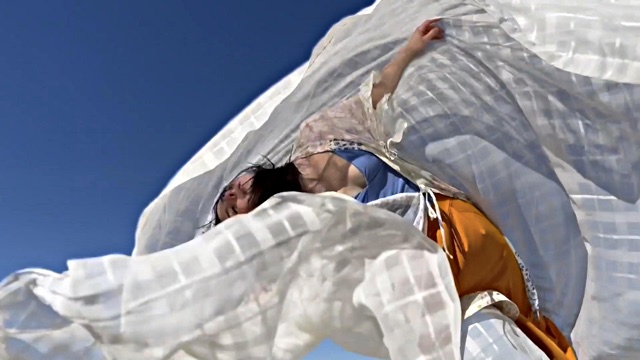 Gusts
2022 / United States / 3 min
Featuring
Christiana Wheeler
A dance film about the ebb and flow of wind and the movement inspired by it.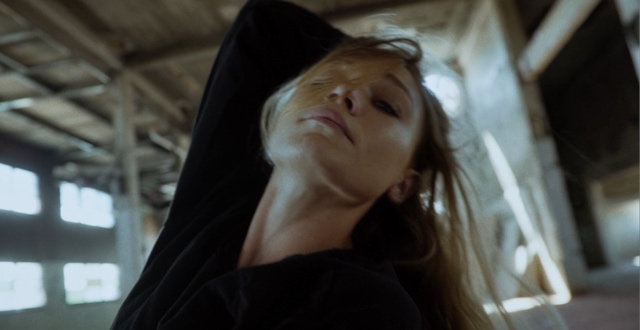 Projections
2021 / United States / 4 min
Featuring
Han Andrew, Abbey Eheart, Bruce Tetsuya
A dancer enters the caverns of her own mind, to find and bury someone from her past.

international artists video installation
This installation is available during the Premiere before the screening (6:45 – 7:30), during intermission, and after the screening.
Second Floor (Boulder Room)

virtual reality installation
This special installation is viewed through virtual reality headsets and is available before the screening (6:45 – 7:30), during intermission, and after the screening. To experience this installation, you must sign up in person at the Google Garage on the second floor and then be on time for your reserved time slot!
Second Floor (Google Garage)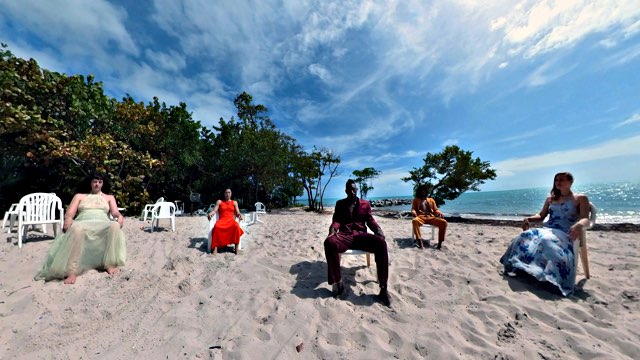 5 Stages of Drowning
2021 / United States / 8 min
Directed by
Ed Talavera, Konstantia Kontaxis, Dennis Scholl, Rosie Herrera
Produced by
Konstantia Kontaxis, Ed Talavera
limited spaces available!
5 Stages of Drowning is a virtual reality experience that explores climate change and the climate gap in Miami through dance. Designed and choreographed on location in Little Haiti, East Little Havana/ Miami River and Virginia Key, 5 Stages of Drowning juxtaposes movement, performance, and climate change in a cohesive narrative that prompts audiences to question their relationship with the environment.

19th annual festival premiere screening
This screening runs approximately 85 minutes, including at 15-minute intermission. It is recommended for viewers age 12 and up due to brief instances of nudity and on-screen adult language.
Museum Rooftop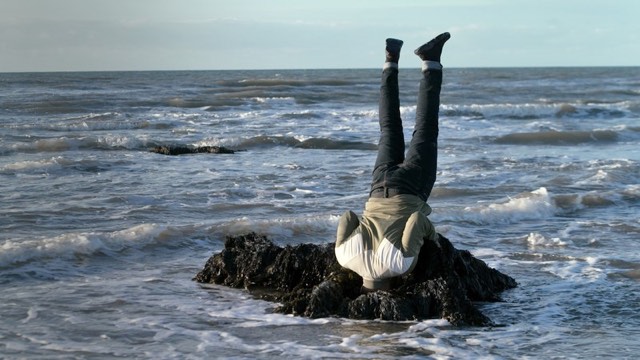 Amser / Time
2022 / United Kingdom / 6 min
Directed by
Deborah Light
Choreography by
Light Ladd Emberton
Moving through time along Bae Ceredigion/Cardigan Bay, we arrive at today's climate crisis. Sarn Gynfelyn is revealed every low tide and looks like a road into the sea. In fact, it is a glacial moraine laid down 20,000 years ago when ice sheets melted, and it marks the beginning of the global conditions that have enabled human expansion. At Borth, a 6,000 year old forest flourished for a few thousand years. Submerged by the sea, it has since been re-exposed in recent storms. Sarn Gynfelyn and Borth's forest are both cited as supporting the Cantre'r Gwaelod legend of lost fertile lands in Cardigan Bay, but the geology tells a different story. Moving forwards, we arrive at Fairbourne, a seaside town built on saltmarsh and English industrial wealth. It is now set to become the first UK town to be decommissioned due to sea level rise. It will be demolished and returned to salt marsh and will have existed for less than 200 years. In the intertidal zone, between land and sea, three people move, with arresting visual imagery through these three remarkable sites.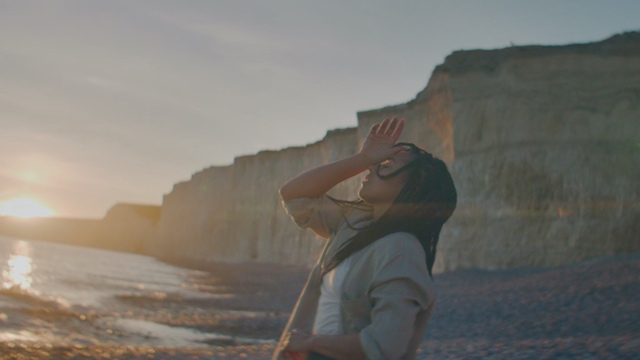 Scapelands
2021 / United Kingdom / 4 min
Produced and Directed by
Katie Beard, Naomi Turner
Choreography by
Liv Lockwood
Scapelands explores our primal connections with nature and the effect of urban living on the human mind. Due to the current global pandemic, the psychological impact of our physical environments is being felt more significantly than ever before. Scapelands depicts this feeling of being boxed in and the inherent need to reconnect with something beyond our man-made walls. Scapelands was commissioned by BBC Arts and Arts Council England as part of the New Creatives Scheme.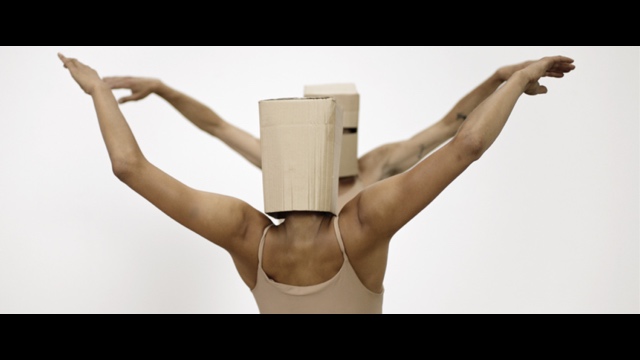 La Fuga dei Cervelli
2022 / France / 5 min
Directed by
Mathieu Mondoulet, Thibaut Eiferman
Produced by
Compagnie Entity
Choreography by
Thibaut Eiferman
Dancing by
Thibaut Eiferman, Chiara Corbetta
Cinematography by
Mathieu Mondoulet
Set Design by
Margaux Berger
Visual Effects by
Alfredo Bonomo
Original Score by
Variéras
We all walk according to who we are socially. The body is a receptacle for everything we have experienced. Our identities are boxes filled with ideas imposed upon us according to the norms of the world we live in. Since childhood, we are trained in a way that dictates who we will be and perhaps takes away the awareness of choosing or the freedom to choose ourselves. Do we have the capacity to reinvent ourselves? What tools can we put in place to return to a state of awareness of who we are without external influence? Who would we be if we could see into our learned habits? "Brain drain" is an expression that designates a gradual exhaustion or flight of youth by emigration to a more favorable place according to its qualities. This expression, often used in a political or economic context (it would be, for example, often used to speak about the Italian youth who leave their country for fear of not finding a job in a situation favorable to the desires of their generation), in this video finds another meaning. Here, this flight will be deployed by those who wish to find a meaning to their life, towards nature and towards their nature. "Favorable" becomes the opposite of what it was. Instead of a flight to pursue over-individualization, the "favorable" place is one of collective effort to return to the essence of things.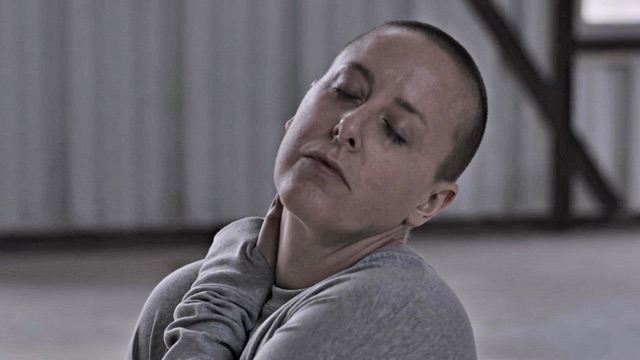 Promise
2022 / United States / 5 min
Directed by
Lane Michael Stanley
Produced by
Lowell Blank, Sarah Jack, Lane Michael Stanley
Choreography by
Sarah Jack
Dancing by
Erica EG Gionfriddo, Thomas Sommo
An experimental dance film about grief, substance abuse, and recovery.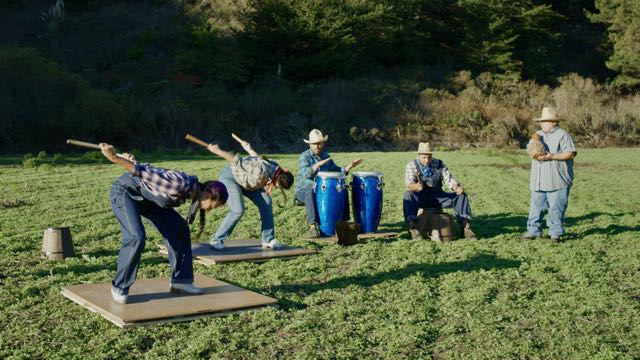 Ghostly Labor: A Dance Film
2022 / United States / 13 min
Directed by
John Jota Leaños, Vanessa Sanchez
Produced by
Harry Gregory
Ghostly Labor: A Dance Film explores the history of labor in the US–Mexico borderlands through Tap Dance, Mexican Zapateado, Son Jarocho, Afro Caribbean movement, and live music. This work brings together polyrhythmic movement and an original score to look at the (ongoing) years of systemic exploitation of labor while highlighting the power and joy of collective resistance. Based on farmworker interviews in California, this excerpt honors the sacred hands that feed us and was filmed on a farm with support from Ayudando Latinos a Soñar (ALAS), a non-profit advocacy organization for farmworkers in Half Moon Bay, CA. A full-length dance theater production of Ghostly Labor will premiere in 2023. Note: This film contains a brief instance of on-screen adult language.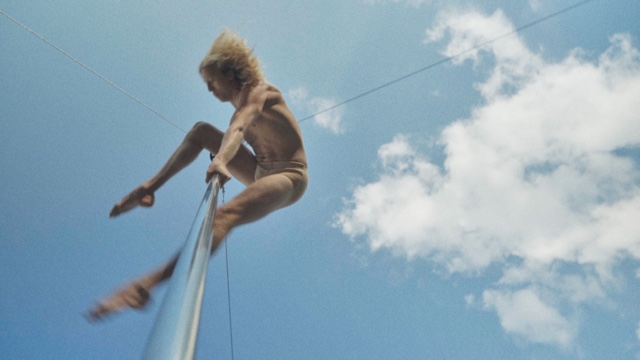 Inexistent Word
2021 / Russian Federation / 7 min
Produced and Directed by
Vera Kachinskaya
Choreography by
Mitya Staev
Written by
Vera Kachinskaya
Cinematography by
Daniil Bolotnikov
Edited by
Andrew Paperniy
Dancing by
Dimitriy Staev
Music by
Irakliy Tavartkiladze
Sound Editing by
Irakliy Tavartkiladze
A lonely naked man is fast asleep, surrounded by the sounds of his dreams. The protagonist wakes up in an unfamiliar area, there is no one around. The Voice appeals to him, it's a mother's voice, which accompanies him and brings him to conversation. When the man is ready to answer, the Voice breaks off. The dance sets in. Note: This film contains brief instances of nudity.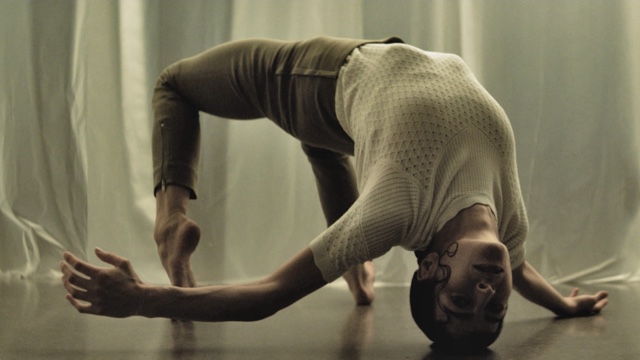 She
2021 / Sweden / 8 min
Directed by
Emil Dam Seidel
Produced by
Emil Dam Seidel, Dorotea Saykaly
Choreography by
Dorotea Saykaly
Caught in a room, the protagonist, Clarice, unfolds a vision of her own identity through a mirror interrogator. She is a cinematic adaptation of a solo dance performance with the same name. The original performance work was created and performed by Dorotea Saykaly and premiered at 5éme Salle at Place des Arts in Montréal, Quebec in 2019. Inspired by The Passion According to G.H. by Clarice Lispector, the solo revolved around identity and doubt. Manifested through movement, distortion and an interview with a phantom interrogator, the original work proposed looking at a questioning body through a female lens. The cinematic adaptation of the original performance work arose during the first COVID lockdown in 2020 as a collaboration between Dorotea Saykaly and film director Emil Dam Seidel.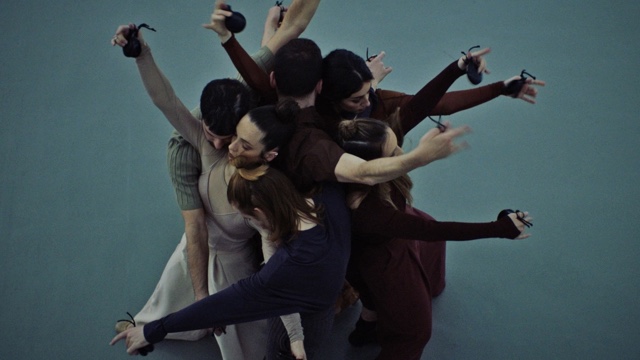 A Body Is
2021 / Spain / 4 min
Choreography by
Marco Flores
Featuring
Cia Marco Flores
Antonio José Martínez Palacios was going to be the biggest Spanish musician of the 20th Century. Unfortunately, he was incarcerated and executed without a trial at the age of 33, at the beginning of the Spanish Civil War.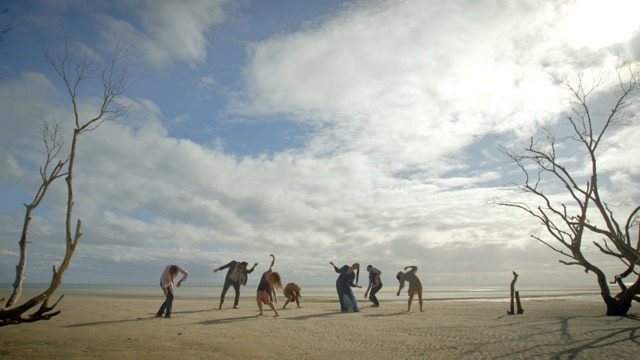 A Perpetual State of What the F#@k!!??
2021 / Australia / 9 min
Directed by
Mick Angus, Gavin Webber
Produced by
Mick Angus, Gavin Webber, Grayson Millwood, Kate Harman
Featuring
The Farm , Dance Theatre Company
Seen through the eyes of a child, this is a film made like a dream, but a dream we are all in. It's a dream of our future, blurred and indistinct, seen through a glass windshield, windswept by sand, hidden beneath the waves. Two children scavenge the carcass of a world decimated by negligence and come across the leftovers of the past, buried in the sand but still moving towards an end that's out of sight. Award winning companies Jerrycan Films and The Farm (dance theatre) bring a uniquely physical and visceral aesthetic to the screen in a work of sweeping imagery that asks all of us to remember what keeps us together when it all falls apart.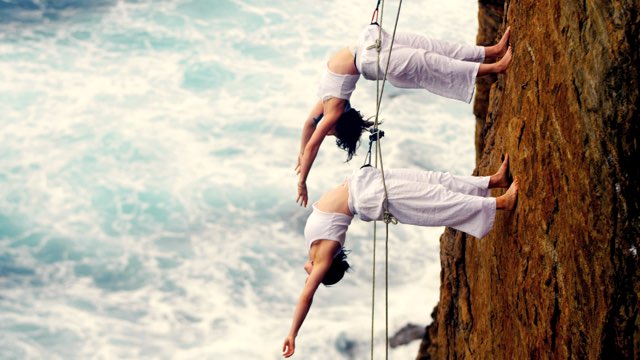 The Wilyabrup Project
2021 / Australia / 6 min
Featuring
Brenna Day and Bonnie Blewitt
Above the waves, beneath the sky, against the rock. Moving against a staggering vertical cliff face, suspended above wild crashing ocean, two artists dance with the roaring wind and each-other in a celebration of human connection, our experience of nature and the vast wilderness that is the Wilyabrup sea cliffs. A choreographed performance of two bodies in gravity-defying motion tethered to the rockface, this vertical dance frames the artform against truly wild nature that shows the beauty, fragility and resilience of the human body and the environment. Filmed on Wadandi land in the south west of Western Australia.